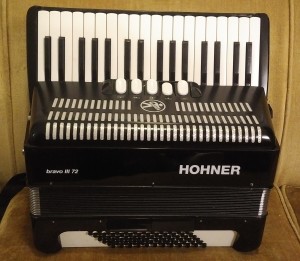 This used Hohner works as if new and still looks great. If you are looking for a light accordion with a lot of power on both the treble and bass side this is the one for you. It has the standard honer musette tuning, with 34 keys,  72 bass buttons, 4 voices, 2 bass registers, the keyboard length is 16 inch and weight is 16.5 pounds.
Includes adjustable textile straps and case.
Comes with a 6 month Warranty for parts and labor to repair any manufacturer defects.